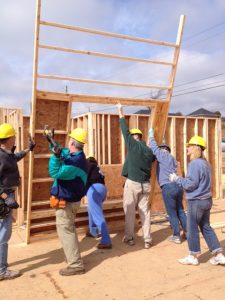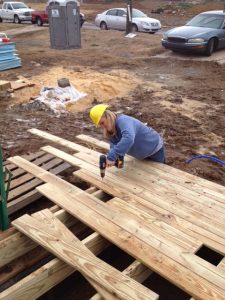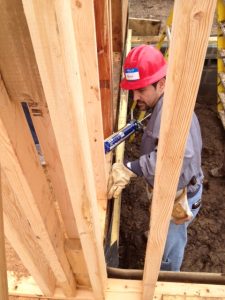 Habitat for Humanity
is the national project dedicated to removing the blight of homelessness from the world.  The mission statement of Habitat for Humanity is to "seek to eliminate poverty housing and homelessness from the world and to make decent shelter a matter of conscience and action."  Working with the people who will ultimately own the houses the program builds, Habitat volunteer crews build houses for families who cannot afford them in the normal course of affairs.  These homes are never "given away"; the people who benefit must make a down payment and mortgage payments, as well as contributing work on their own and other Habitat projects in their area.  Habitat is well known for their program, which is championed by former president Jimmy Carter and his wife Rosilynn.
Holy Apostles is proud to participate in this work through the local independent affiliate, Habitat for Humanity of Greater Birmingham, as part of the Diocese of Alabama's outreach to those in need, regardless of ethnicity and creed.  The Birmingham Chapter is one of the most active locations in the country constructing as many homes as the Dallas Chapter!  Holy Apostles has supported this important ministry through the annual "Building on Faith" program for several years.  Building on Faith is a multi-denominational effort to construct and dedicate homes by Good Friday each year.  It takes a lot of sweat, coordination and determination to build a house, but our groups participating in the annual builds are always there to help.
Please contact Kenn Gaddis for more information.